Oh dear…
We had another case of "The FuNkY Ballerina" today.
Elliott was all dressed in her heart leotard and we were ready to go until she says, "It's windy out today, so I need to wear tights!" Again, I explained that she really didn't have any that matched her outfit and that she would be warm once she got into class. Well, 4 (almost 5) year olds have a different agenda…she shuffled through her sock drawer and pulled out a pair of tights and proclaimed, "These match because they also have hearts!"
And, well…yes they did, so this is how we ventured to class today: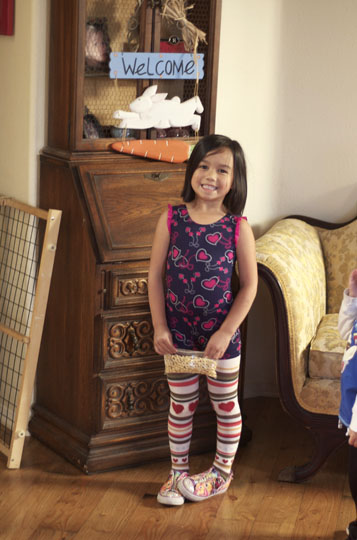 Happy as a clam with her "matching" outfit, Twinkle Toes Skechers & honey nut Cheerios for snack!
All her classmates were in pastel pink leotards with little sheer pastel pink skirts, hair pulled back out of their faces, and then there was my Rainbow Bright holding her own out there amongst her peers. I got such a chuckle out of it.
This concoction later had an added dimension with a cheetah print hoodie. Wish I woulda had the Nikon handy then.
Looks like I need to find some neutral colored tights or hope that the soon-to-come warmer weather will discourage these Punky Brewster-esque moments…although I think it's kinda cute.
Between Holden in his perpetual pajamas and Elliott in her spirited dance wear, I'm starting to think that they are both developing a sense of confidence at a young age and I can only see that as a positive thing.
Hoping you have a wacky, colorful, striped, full of character weekend ahead!