New Trader Joe's discovery thanks to my friend, Janet!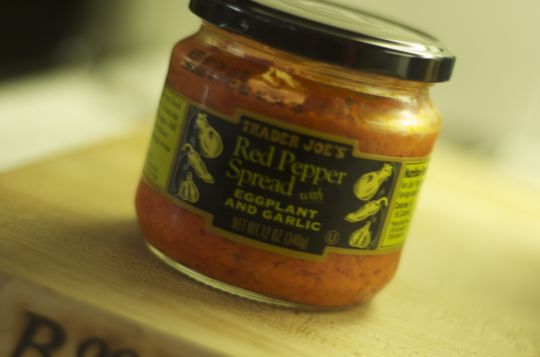 Red Pepper Spread with Eggplant & Garlic….it's great on all sorts of sandwiches, especially turkey and avocado! I have started using it in place of mayo. I love mayo on my sammies and prefer to use the full fat stuff rather than the light, but this new "wonder condiment" totally gives the old white goo favorite a run for it's money.
According to TJ's it's a "seasonal" item, so if you try it and LOVE it like me, then be sure and grab an extra jar or two for when they don't carry it. You will miss it on your 'wiches once you introduce yourself to it!
Here's the breakdown per Tablespoon:
Mayo 100 cal, 11 g fat
Spread 15 cal, 0.5 g fat
I'll save the mayo calories for my tuna or egg salad!