I've been wanting to do some sort of photo gallery in our stairwell. Something to "cover up" the white walls…..they're killin' me! I don't like white walls, but since we're renting, there really isn't much I can do….I guess I could get the OK to paint from the property management peeps, but since I also don't love to paint, I will just live with the white walls while we're here and try to spice them up a little. I haven't wanted to hang too much, but since I don't know how long we'll be here, I wanted to make the place as homey as possible.
So, I was at my second home last week (hint: red bulls eye) and came across a set of 10 black frames in differing sizes for $6.24! (marked down from $24.99!!) They even included some layout suggestions on the box. The frames are lightweight which is great so I was able to use tiny nails and didn't have to drive big nails into the wall. Yesterday I grabbed a hammer, some nails and a measuring tape and went to town.
But the frames themselves were a little TOO simple ~ I needed something else to liven them up a bit…
At Michael's I found some black letters with little hooks on the back for $1.00 each. I had a coupon for 20% off so they came to 80 cents each! So, for an add'l $3.20, I was able to complete my gallery and be pretty pleased. For a total of $9.44 (not including tax or the cost of the photos) I created this: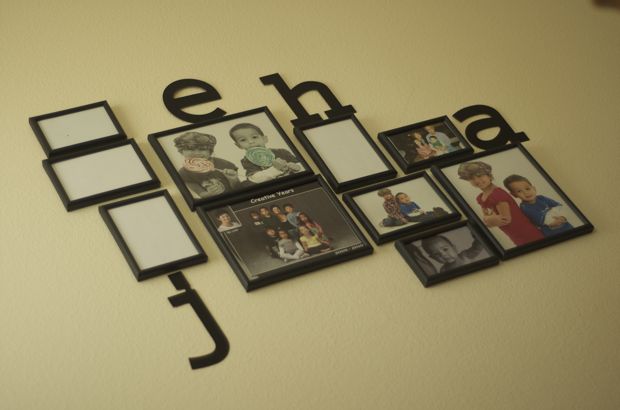 I'm pretty impressed.
Now, I am SUPER DUPER anal about picture hanging. Must. Use. Level. It was hard for me to kind of "eyeball" this project. What I did was get a large piece of paper from Elliott's easel, layout the frames in the order I wanted them, traced the frames, hung the paper on the wall with tape, hammered the nails into the wall through the paper and then removed the paper before hanging the pics. This worked pretty well.
I am constantly going to be on the lookout for crooked frames here since that is another one of my pet peeves! But all in all, I think it turned out OK for a temporary fix! Now I just need to find four more of my favorite pics to complete the gallery…shouldn't be too hard.
First "crafty" project of the year….cheap & successful. Can't beat that!