When I come across a recipe that makes my mouth water, I want to make it yesterday…
I read about these Peanut Butter & Honey Cookies here.
I had all the ingredients except for Mr. Quaker so, while strolling through Target this morning, I picked up some old-fashioned oats and couldn't wait to get home to try these.
I brought my KitchenAid mixer out of hiding and enlisted the help of one pajama clad 4-year old. Now you know having an almost 5 year old "help" in the kitchen can wear on your patience, but we managed to get everything in the mixing bowl without too many gray hairs popping up!
I had high hopes of posting a pic of these cookies on my cute polka dot cake stand looking all beautiful and stacked nicely, but they did not look nearly as gorgeous as Heather's! I dropped them too close together on the cookie sheet and they all had one big love fest in the oven! I HATE when that happens because you no longer have beautiful, round cookies, you have some that are square and some that are round on one side and square on the other three sides from cutting them away from their lovers! I am all about aesthetics when I cook, so this was not a good day in the cucina in the eye candy department. Note to self: next time only 9 cookies to a sheet!
But nevertheless, they were delish (square-shaped and all) ~ just like Heather said ~ "crispy on the outside & chewy on the inside".
Here is a picture of my assistant (pajama day at school today ~ but this is not to say that somedays we don't stay in our jammies well into the afternoon!):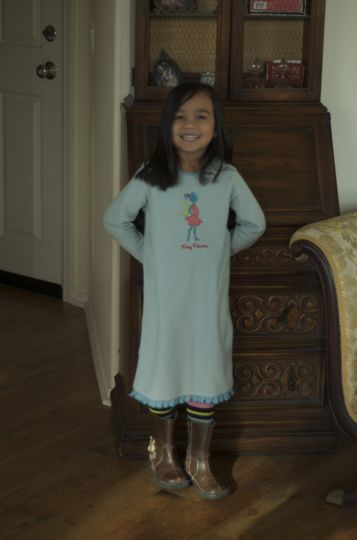 Here is what you'll need: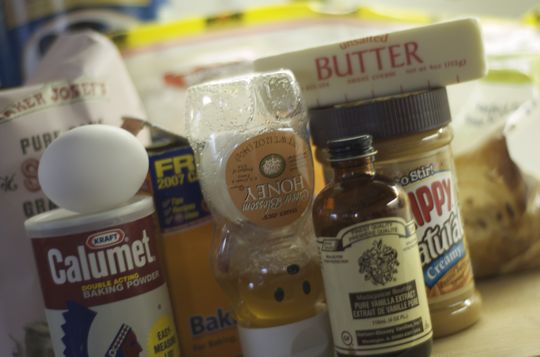 Here's what they look like while waiting for the oven to come to 350: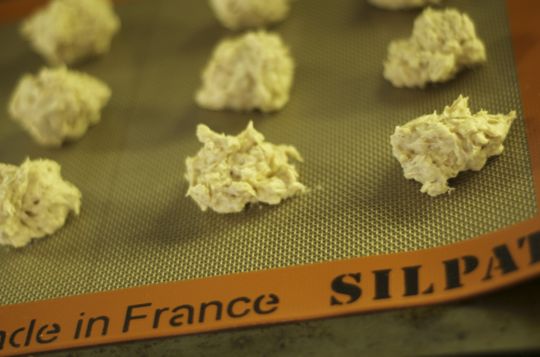 …and here's what they look like when you put too many on the pan too close together: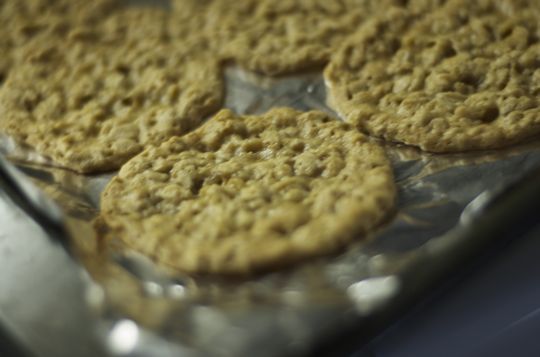 I tried to focus on the ONE perfect one…..
No matter what shape you make these, they're "buzzing" (get it? honey) with delight!