Dear Elliott,
Your First Year was filled with so much…both literally and figuratively. Here are some highlights:
You visited the San Diego County Fair at just a few weeks old. You took your first plane ride at 3 months. You and Rascal kept Mommy company on our drive to Nor Cal (your new home) when you were 5 months old. You were the sweetest Monkey while trick-or-treating in Menlo Park on your First Halloween (also 5 months). You were baptized and celebrated your First Thanksgiving at Lolo & Lola's house in South Carolina with the whole family at 6 months. Of course your first Christmas, New Year's, Superbowl, Valentine's Day, St. Paddy's Day and Easter were very special. You visited the grumpiest Santa at the SF Zoo, but later saw the "Happy Santa" at the good 'ol Valley Fair Westfield Mall. You began swim lessons at 10 months and this is where you met your very first girlfriend, Charlotte! You moved into your brand new house in Gilroy at 11 months. I celebrated my very first Mother's Day with you in beautiful Carmel, but had to get dinner "to go" later that evening because you had the HUGEST blowout in your darling little watermelon outfit (including your watermelon Robeez!) But, it was still one of the most special memories even with the package of wipes that we went through to clean you up in the tailgate of our old white Volvo wagon! Shortly thereafter, you celebrated your First Birthday with a Jungle themed adventure! I had SO much fun planning your bash and I think this is where I went into perpetual "party plannning mode". Even though we had just moved to the area, you had SO many friends and family there to celebrate with you as you entered your Second year of life. It was a "wild" day and I a still dreaming of your fresh banana cake from one of my all time fave bakeries, Icing On The Cake in downtown Los Gatos. Oh how I miss that place!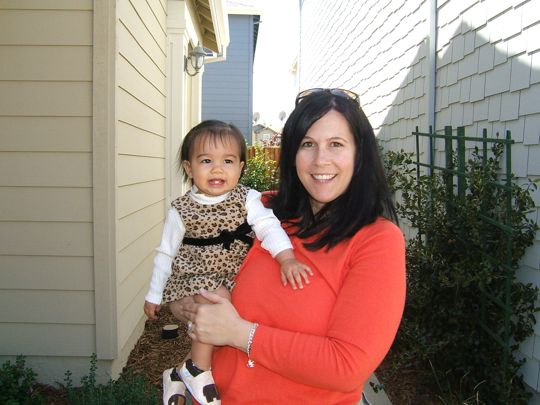 Here you are in your cheetah print dress from Auntie Jeannie & Uncle Mark in Boston: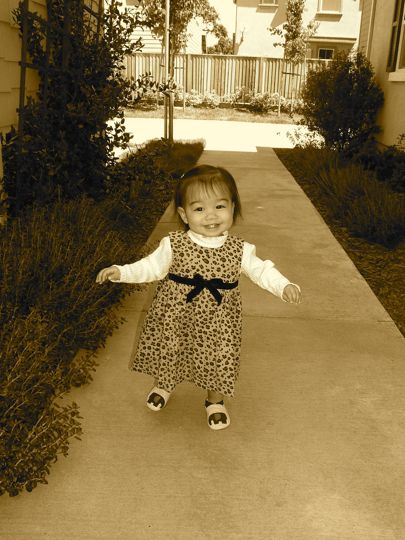 And your gorgeous fresh banana cake: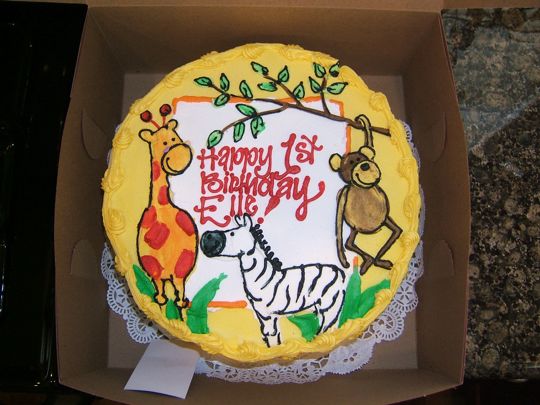 *****
Your Second Year was also action packed. Here are just some of the highlights…You quickly started meeting lots of fun new friends in your neighborhood (your BFF being, Logan) and by this time you and Charlotte were two peas in a pod and spent Wednesdays together after swimming lessons. You visited the Santa Cruz Boardwalk with your friend William when you were 13 months. You attended your first Gilroy Garlic Festival at 14 months. You flew to Vegas at 17 months to visit Lola & Lola and celebrate my 36th birthday. You did your first "apple picking" at Gizdich Ranch with Logan when you were 18 months old. You celebrated your 2nd Turkey Day and Christmas in your new home along with family. You went to the snow in Lake Tahoe when you were 20 months. However, the biggest milestone of your second year was that when you were 21 months old, you became a Big Sister. I will never forget you waiting (aka running) out in the halls with Gramma when your Baby Brother was born. You came in just minutes later and laid eyes on Holden and you have been a wonderful Big "Sissy" ever since (well maybe despite a couple minor instances!). You were such a patient girl for the first couple months while Mommy and Daddy got the hang of things. You shared your 2nd Birthday weekend with Holden with a back-to-back Baptism and your Western Cowgirl themed rodeo on Memorial Day Weekend 2007. Again, this birthday was filled with MANY new friends, family….and of course, fresh banana cake from Icing On The Cake! We also served mini sloppy joe's, Auntie Bucky's Ranch potato salad, Uncle Matt's baked beans and your favorite, piggies in a blanket for all the little cowboys and cowgirls!
This is one of my favorite pics of you EVER. EVER.: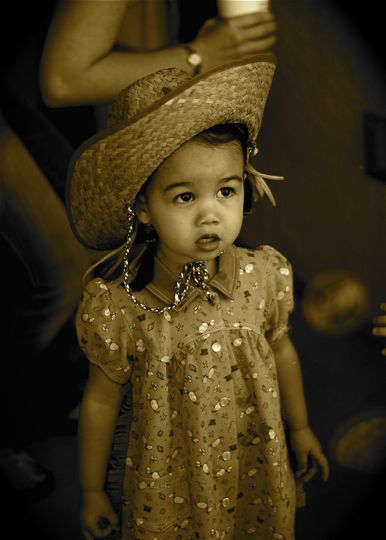 …and again, the infamous fresh banana cake: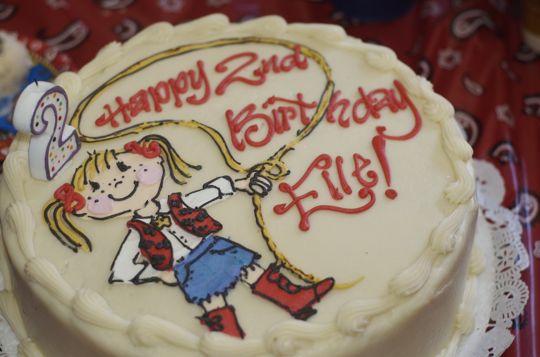 Only 2 more days, my Little Sugar Muffin, and you'll be FIVE!
Now, off to celebrate with mini bagels & cream cheese at school with your classmates!
Coming up tomorrow ~ Birthday Countdown: Part III