Saturday was full of impromptu events…
The Albertson's down the hill was having an Easter egg hunt ~ the "golden egg" being a pass to Disneyland along with some other goodies for the little ones hidden inside certain eggs. Mr. Easter Bunny made a brief appearance which I was thrilled with because that saved me a trip to the mall and $25 for a photo!
The "hunt" took place in the produce section and it was hardly a hunt at all….just piles of candy filled plastic eggs under the apples, lettuce and potatoes! Super duper obvious and lasting a grand total of 3.5 minutes! My little chickens only walked away with mini Twix bars, Reese's and mini Hershey's bars…thank goodness the candy was good because I would've been real disappointed. But they had a great time and Albertson's was nice enough to serve FREE hotdogs and sodas so this Mama didn't even have to fix lunch ~ gotta love that. Here are some photos from the eggstravaganza…
Elliott gathering eggs: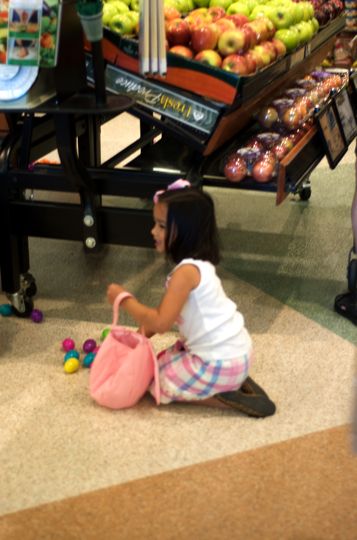 The find: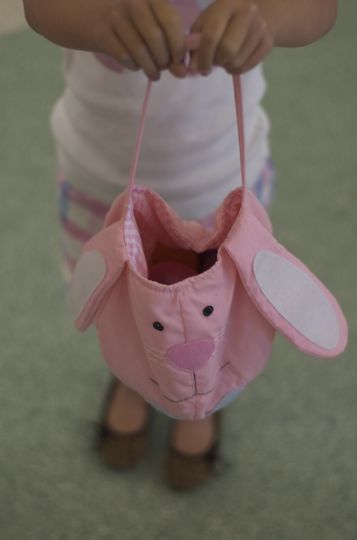 Holden post hunt searching for the rabbit: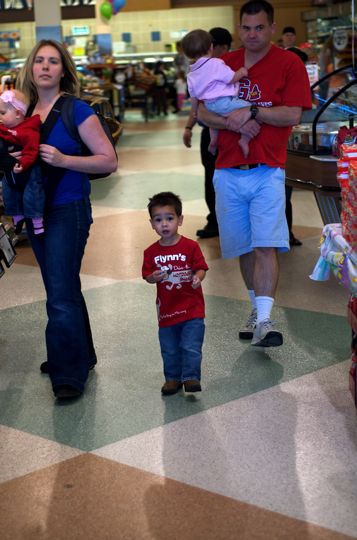 Emilie & Elliott with Mr. Easter Bunny: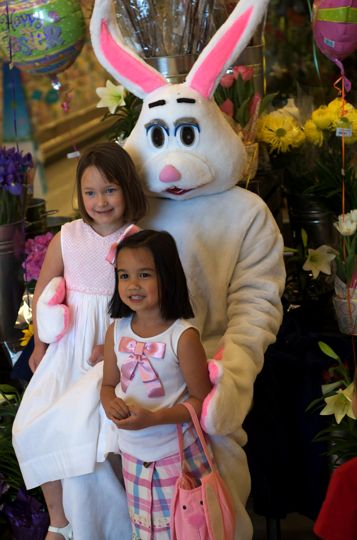 Holdy with his new BFF: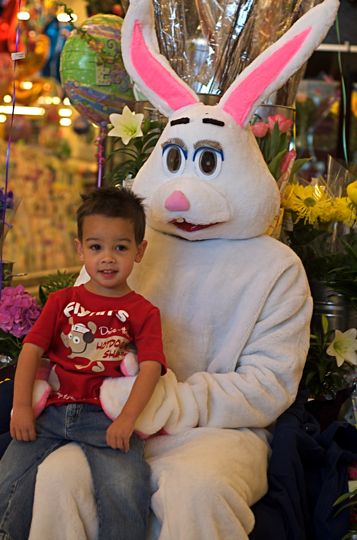 Enjoying lunch: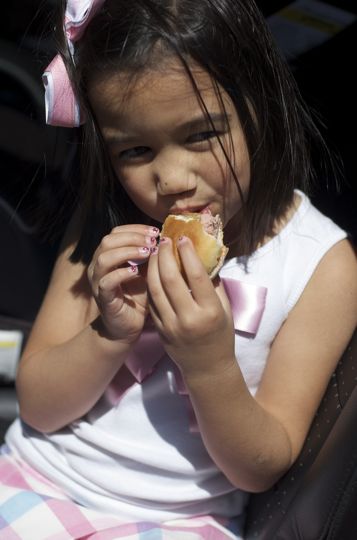 Then, we organized a last minute redneck block party where a few neighbors parked their lawn chairs in the guest parking across the street, prepared some appetizers and enjoyed wine and chit chat while the kids ran amok, chalked the you know what out of the street and rode various modes of transportation including scooters, tricycles, bikes and the ever popular Disney Princess ride.
Here is the spread (yes, complete with boxed wine!):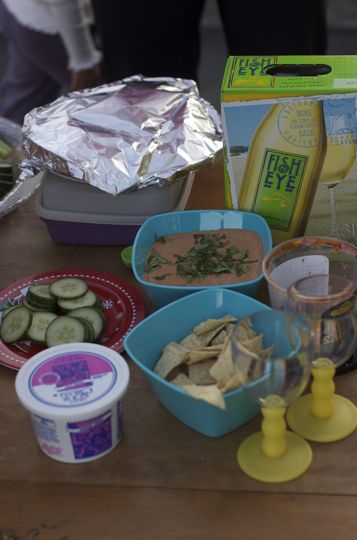 I made a dip that I found on the back of the Mission Tortilla Strip bag…Black Bean & Roasted Red Pepper Dip: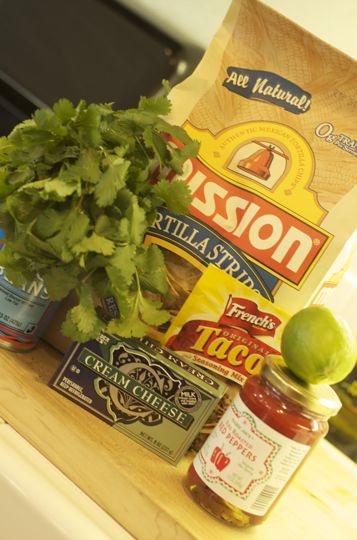 It calls for cilantro so I was immediately sold: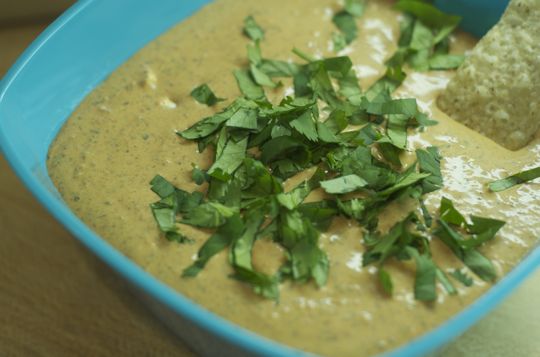 This is my new fave $3.99 TJ's wine find (and it's organic!):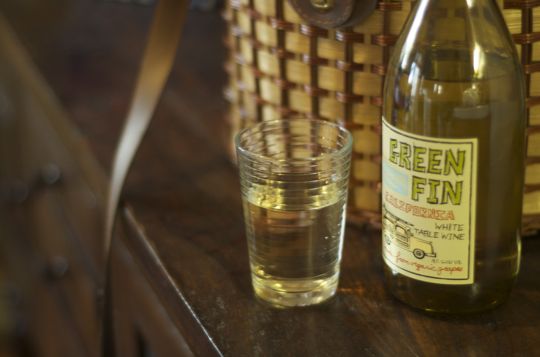 Holden decided to don a plastic bowl helmet: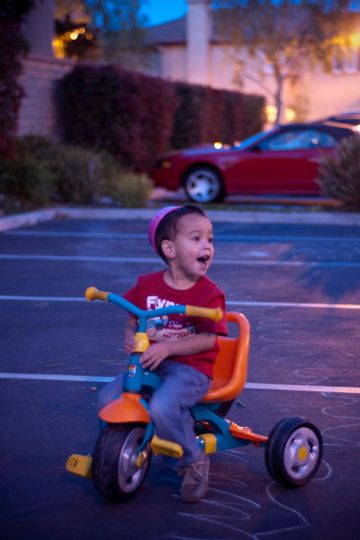 Checking out the stars: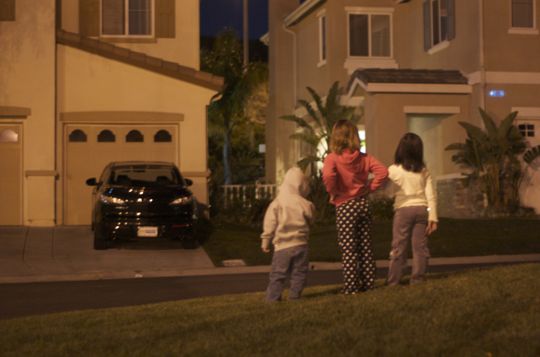 This morning we were up bright and early to head to a Scooter's Jungle (bounce house place) birthday party for a little friend in E's dance class, ran some errands to finish up shopping for Easter outfits, pick up some hand weights for my boot camp which starts tomorrow and then enjoyed an al fresco dinner of homemade crispy chicken tenders and mac n cheese (NOT homemade!).
I discovered this recipe in Parents magazine years ago and it is so easy and delish. I feel like I feed my kids dino chickens from Costco on a daily basis, so it's nice to make them from scratch once in awhile. The recipe calls for corn flakes, but I used my leftover rice crispies from the treats earlier this week and those worked just fine.
Here is what you need:
12 oz. skinless, boneless chicken breast halves (I use frozen chicken tenderloins)
1 egg, lightly beaten
1 Tbsp. honey
1 tsp. prepared yellow mustard
1 cup packaged cornflake crumbs or 2 cups cornflakes, finely crused (or crushed rice crispies!)
1/4 tsp. salt
Dash ground black pepper
Dipping sauces: BBQ, Ranch or ketchup
1. Heat oven to 450F. Cut chicken into 3/4-inch strips. In a shallow dish, combine the egg, honey and mustard. In another shallow dish stir together cornflake crumbs, salt and pepper. Dip chicken strips into the egg mixture and then roll them in crumb mixture to coat evenly.
2. Arrange the strips on a baking sheet. Lightly spray with nonstick cooking spray. Bake 12-15 minutes, or until chicken is cooked through. Makes 4 servings.
Nutrition per serving: 179 calories, 22g protein, 2g fat, 16g carb, 18mg calcium, 0 fiber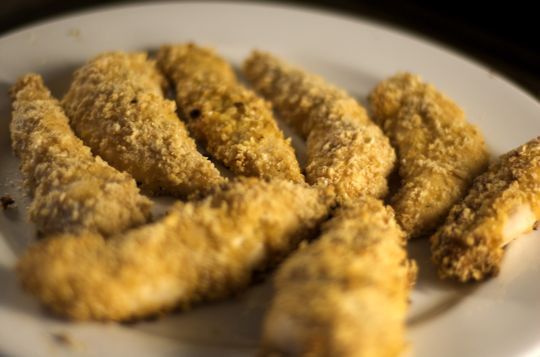 I sliced mine and put them into a salad…still desperately trying to recreate the CPK bbq chicken salad!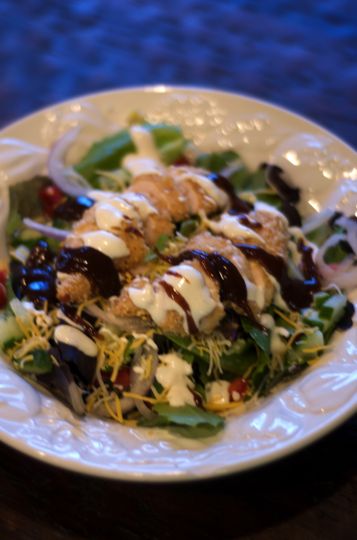 Finally, I will leave you with this cute image: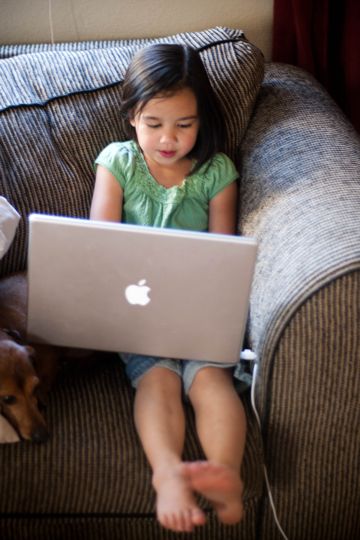 Future blogger?
Here's to another busy week ahead…2 boot camps, mammogram, bro-in-law coming on Wednesday and then the in-laws coming on Good Friday to celebrate Easter with us. Egg coloring and frosted Easter sugar cookies to be made in between. Oh, and sloppy joes (not from a can!) on the menu for tomorrow.
Hope you have all sorts of good stuff on the agenda this week, too!