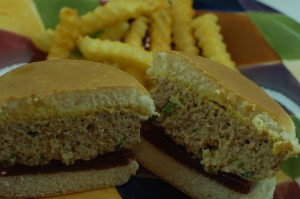 OK, you have got to make these burgers. Seriously!
If you think you don't like horseradish, you do. If you think you don't like Rachael Ray, you do.
These are the best. I make them all the time. Perfect for Fall. Turkey & Cranberry. Yum!
Serve with Alexia sweet potato fries (in the frozen aisle) and a simple green salad. I roasted some brussels sprouts to go with this meal, but left them in a little too long and they weren't very photo worthy.
Here is a link to the recipe:
Turkey Burgers with Horseradish & Cheddar Cheese
Enjoy!