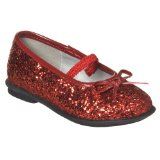 If you have a daughter that is under the age of 6 or 7, chances are they have had a pair of these Circo ballet flats from Target!
I've been trying to get my hands on a red pair FOREVER! I always wait until it's too late and they've all been purchased for little Dorothy Halloween costumes.
Last year I wanted the silver pair for her fairy costume and had to settle on the black. She wore them into the ground through the holidays and into the New Year.
Toes scuffed and leaving a trail of glitter around the Santa Clarita Valley, I'm sure.
But she loved them and they went well with leggings, jeans, skirts, dresses…..heck, even pajamas!
This year I've been stalking the children's shoe area and am thrilled to say that we are now the proud owners of a RED pair of glittered ballet flats!
Thanks, Gramma Kathy!
I know….the things that get a stay-at-home-mommy excited!
*****
I love Irish oatmeal.
It's steel cut and much chewier than your instant variety.
When we go to the cabin in Yosemite, I must have this for breakfast at least once. With fresh fruit. And brown sugar. Lots of brown sugar.
I discovered that Trader Joe's has their own now and decided to try it since it was significantly cheaper than the McCann's.
My new fave breaky is a serving of this with fresh blueberries that I add about 2 minutes before it's done cooking. They get all nice and soft and burst in your mouth. I also add a bit of lowfat milk and about a tbsp of brown sugar!
Sooooo yummy and filling!
Sticks with you through the morning.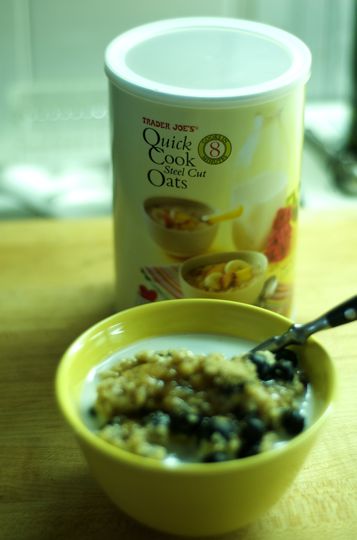 No, it's not instant, but it is worth the 8 minutes on the stove.
Perfect for Fall breakfasts!
Enjoy.