OK, if you're familiar with Yo Gabba Gabba (and unfortunately I'm afraid I AM) then you must say the title of this post like they do on the show ~ "Super Martian Robot Girrrl".
I know lately I have been promoting all these random condiments that I am somehow all of a sudden obsessed over! I swear I'm not being reimbursed at all for my many plugs lately. I just love them so much and want to share….they're nothing fancy, but I find myself using them ALL the time. I feel like I should wear a super hero costume and cape and fly around rescuing everyone's boring lunches and spicing up people's bland dinners with all these fabulous new finds of mine. Believe me, we were in a rut with our meals, but lately I have been kicking everything up a notch just by adding some zest here and there.
First, there was the Red Pepper spread from Trader Joe's.
Then the Sriracha pepper sauce.
Then my recent jarred jalapeño push.
Now I'm sharing my newest discovery: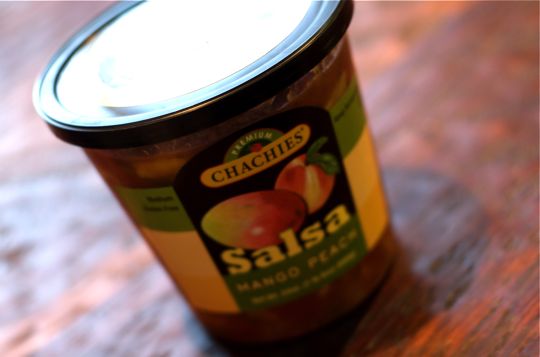 Mango Peach salsa from Smart & Final!
OMG is it good! I served it at the taco bar at Holden's party and several people asked me if I made it. There are HUGE chunks of mango. It was super cheap (like $2.50) and in the refrigerated section! I am out and need to go back and get more. Which brings me to my next topic ~ Smart & Final.
Each week we get an ad for S&F in the mail. I spotted a couple things I needed for Holden's party and went to the nearest one to pick them up. I haven't had the best image of S&F since the couple stores I've been in before were a little sketchy. The one near us is only a couple years old, clean and organized. I always thought S&F was similar to Costco where you have to buy larger quantities of stuff….NO, not entirely so. It's almost like a grocery store and a mini-Costco all in one. I went in for 2 or 3 things and ended up doing ALL my grocery shopping there…swear! They have produce and let me just say that I am picky about my produce! I am the one that stands there fondling every onion, squeezing every cantaloupe, checking for bruises on every apple. The produce guy is probably thinking,"Easy, Lady! Just pick one already!" My point is, I actually got some produce there. They have their own store brand too and it's actually completely fine.
So now I have another grocery store I need to figure into my food trips! There are things that I love about a lot of different stores…Albertson's is close, Vons has good deals, Super Wal-mart has super cheap food prices, Trader Joe's is a given and now I've discovered that S&F is pretty cool too!
Get "smart" people! Check it out…you may end up loving it as much as I do!
P.S. Coming up later today….Sushi 101: Spicy California Rolls & Teriyaki Chicken Rolls