I wanted to come up with a simple little gesture to present Elliott's graduating preschool class with this evening at the big commencement ceremony.
What better way than with…..candy!
Parents, you can thank me later.
I remembered back 10 years ago when two friends and co-workers of mine, Kim & Deb, would make candy leis for special celebrations in her kids' lives.
I think it's the perfect thing for Miss Linda and all her Tuesday/Thursday friends!
1 adult-sized & 10 pint-sized candy leis, comin' up.
I got this brainy idea late last night so off I was to Wal-mart at the crack of dawn (so happy they open at 6am!) to gather some confections and more ribbon (along with a bathing suit top, lighters for the grill and some organic potting soil).
Time to get started…
I had NO idea what I was doing, but figured it's wasn't rocket science.
You will need the following: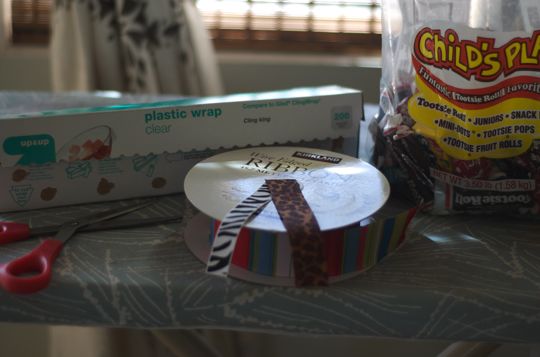 Plastic wrap, scissors, some candy and fun ribbon.
I found that the ironing board makes a great work space! Since I don't use it to iron, why not make some candy leis on it.
1. Roll out about 4 feet of plastic wrap and cut.
2. Place about 6 candies or groups of smaller candies about 2 inches apart from each other down the middle of the plastic wrap.
3. Fold the bottom edge of the wrap to meet the top edge.
4. Roll the candies until you have a "rope" and all plastic wrap is rolled into itself (does that make sense?)
5. Tie off in between each candy with about 4 inches (totally estimating) of ribbon.
(You can use curly ribbon and curl with scissors after you tie your double knot, but I used some leftover zebra ribbon and picked up a roll of cheetah to keep with the fun animal print theme for the kids. I ran out and had to use some striped, wired ribbon for Miss Linda's…didn't want to use it for the little ones in case anyone got scratched or poked, but hers turned out cute as well.)
6. Take the 2 ends and join them together overlapping a bit and then tie off with another piece of your cute ribbon.
You're done!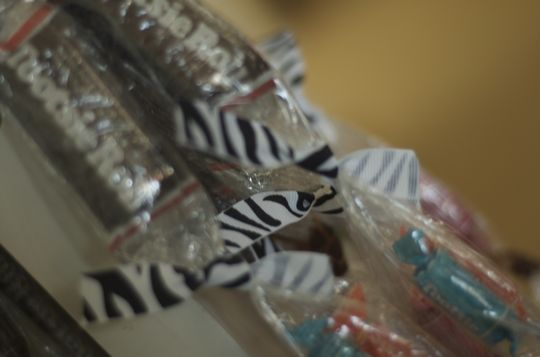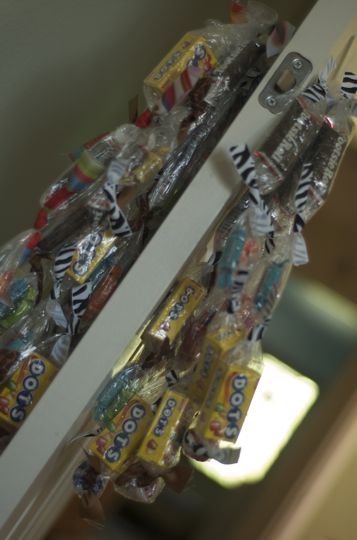 Super quick & easy ~ I was done by 8:30am.
Next time I will select some different, more diverse candies. Perhaps some Laffy Taffy, Air Heads, sugar-free gum & Dum Dums. In the interest of time, I just grabbed a big bag of Tootsie Roll candies.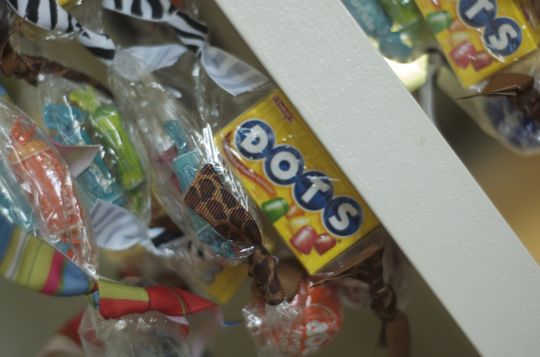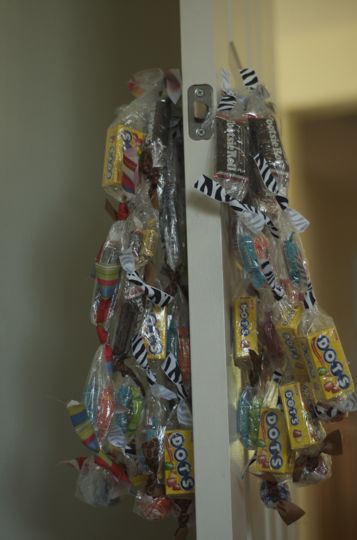 We're not supposed to send candy to school, but she can't get in trouble or kicked out, she's graduating!
YAY!