Jay surprised us and is taking the day off on Friday. We're heading to Mickey Mouse's House! It's the first day with the halls decked, the stockings hung, the trees trimmed and the lights strung. I love, love, love Disneyland during the holidays! It's even MORE magical (if that's possible).
Last December we had our maiden voyage to D-land as a family. We went on a Friday and it was packed. We only made it on a handful of rides. However, Jay came across a website that tracks attendance patterns and supposedly this is a "good" time to go. Who wants to go to D-land on Friday the 13th? We may be the only ones there. We will let you know!
Our first visit was interesting. We didn't get into the park until after 2:00p.m. The parking lot was full and we parked off-site and walked into the park as there were no shuttles. We arrived at the front gate, waited in line for tickets and finally made it into the park. It was magical…seeing the expressions on the kids' faces was, for lack of a better term, priceless. We immediately headed to the newly re-opened It's a Small World. Eyes wide and dropped jaws the whole ride. It was precious. Elliott and Holden were finally under the Disney spell and it was beautiful.
It got dark and cold quickly.  We swiftly forked over $70-something for sweatshirts. Followed by personalized ears and ice cream while we watched the parade. We stayed to the bitter end – midnight. We changed the kids into their jammies and brushed their teeth before we headed home. The following day I felt like I was hit by a train. But of course it was ALL worth it.
This time I'm hoping we end the day at the Happiest Place on Earth with SMILES instead of this: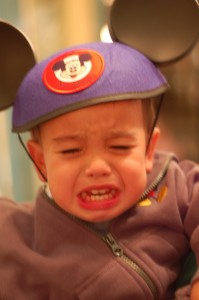 This is NOT the picture Disney Marketing wants you to see!