My friend, Sharon, passed along this Chocolate Chip Pudding Cake recipe, however, I don't own a bundt pan.
Enter my other friend, Lisa…I borrowed her bundt pan and promised to bring some cake to the next park playdate…
Well,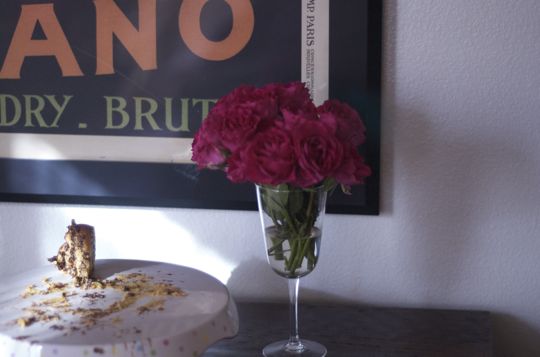 …there's none left!
We had another impromptu neighborhood get together last night and this cake was that talk of the block!
It's the easiest thing to throw together and you can mix and match cake mixes and pudding flavors any way you like:
Chocolate cake mix with chocolate pudding
Chocolate cake mix with vanilla pudding
White/Yellow cake mix with vanilla pudding
Marble cake with chocolate pudding
OR
Banana cake mix with vanilla pudding
That's the combo I chose and it did NOT disappoint!
Then add in a 12 ounce bag of mini semi-sweet morsels and it's off the charts!
Here is the recipe courtesy of Sharon:
12 oz bag MINI morsels
1 Box Yellow cake mix (chocolate if you are a TOTAL chocolate lover)
1 Box small vanilla (chocolate if you are going crazy) pudding
1 3/4 c. milk
2 eggs
Preheat oven to 350
Mix all ingredients
Pour into greased and floured BUNDT pan (save some of your cake mix to flour)
Bake 50-55 minutes… DO NOT OVERBAKE…. cool at least 15 minutes….
You can frost it with chocolate frosting if you like….
I splurged and used Holden's whole milk, but lowfat or skim works just fine, too. Also, if you're concerned about sugar, you can use sugar free pudding, as well. I didn't! I also did not frost it ~ honestly, it doesn't need it, but if you want to live on the edge, GO FOR IT!
So, reach into your cupboard and pull out your Bundt pan (or borrow one from a friend!) and make this. Hurry…the weekend isn't over yet. You can always start your diet tomorrow, right?
Thanks again, Sharon! This one's a keeper!