Whew! Feels like almost a week since I've blogged…wait…it has been almost a week – and it was a busy one!
Vegas was great.
What is is about Vegas? It's like you enter a time warp once you're under the bright lights of Sin City. One day in Vegas = 3 days in regular life. The hours just sort of all blend together and you never really know what time it is. When you return home, it feels like you've been gone 3X as long! Vegas'll do that to you.
We had a FABULOUS time, though! Jay celebrated his 40th in true Vegas fashion ~ no holds barred!
One of the highlights (for me anyway) was a trip to Serendipity 3…I've heard great things about this fun, whimsical place, but had NO idea that Vegas had been blessed with one! Thank you NYC for sharing!
The moment I walked through the door, I was in love. Right up my alley. So colorful and happy!
Their signature is the Frozen Hot Chocolate. I don't care how cold it is outside, I will always be able to welcome one of these into my life! It is ridiculous. It is a big bowl of chocolatey goodness topped off with a pound of whipped cream, chocolate shavings and several HUGE straws! So fun!
Here is a pic of the monstrosity! I highly recommend this place for a meal or a frozen hot chocolate for dessert!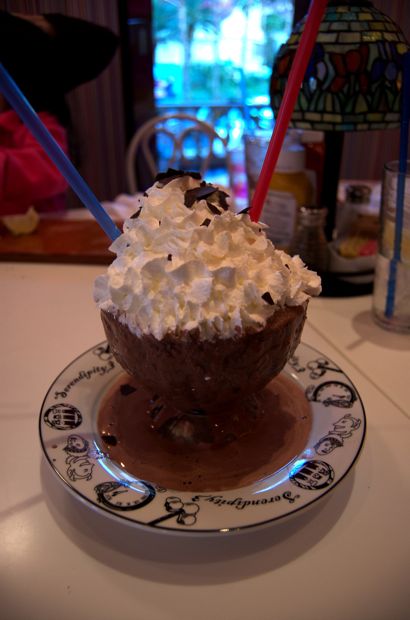 I am thinking that, for the holidays, they should add some pepperminty-ness to it! Maybe substitute the chocolate shavings with some crushed candy canes? OH YEAH!!!!