Hello? Is anyone still out there in Blogland? I know… I'm a blog abandoner! My apologies to my reader(s)! I promise to be around more now that we have the holidays behind us. I've missed doing my little posts and am looking forward to getting back into a routine.
Just to recap, I think that this past holiday season was one of the BEST ever for me. I tried my best to stretch it out, slow it down and take in as much as possible. And you know what? I think it worked!
We packed a lot in, but at the same time, managed to have time to sit back and reflect on a great year.
A Disneyland trip kicked off our holidays. Turkey in San Diego. 3:30 a.m. wake-up call on Black Friday. 4 foot tree from Home Depot. Token Santa visit at mall. H1N1 mist up the nose. Holiday card send-off. Road trip to Vegas for Jay's 40th milestone b-day. Holiday play dates. Intuit holiday party. Visited friends in Newport. Peppermint mochas. Neighborhood lights on foot. Crafting delicious holiday treats. Listening to E&H sing Christmas songs on car rides. Late night shopping excursions. Wrapping paper. Tape. Curly ribbon. Tissue paper.
It's all gone. Lurking around the corner to make an appearance again in what will be a short 11 months.
Superbowl ~ Valentine's Day ~ Holden's 3rd b-day ~ St. Patrick's Day ~ Easter ~ Elliott's 5th b-day ~ Last day of school ~ Summer ~ First day of school ~ New routines ~ My fortieth! ~ Pumpkins ~ Halloween ~ Annual Disneyland trip ~ Turkey Day ~ Repeat most of above paragraph and we'll be in the same spot in 2011 as we are now!
My "resolutions" this year are: 1) No excuses 2) Keep it simple
To get off to a running (literally) start in 2010, I bought these: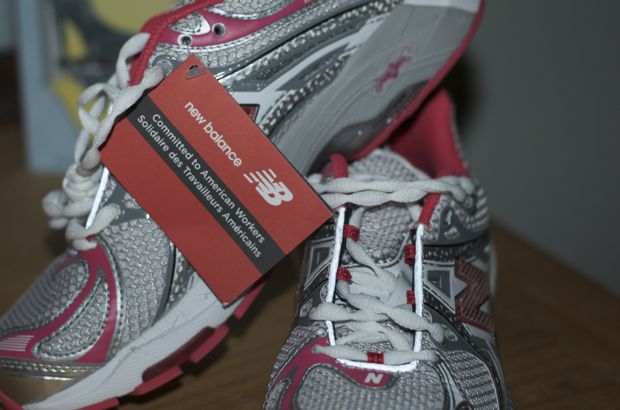 Yes, the tag is still intact, but these will be getting put to use this week. My goal, again, is to do the Las Vegas Rock N Roll Half Marathon in early December…I am still positive, but seeing that I can barely run a half-mile, I have a few hesitations! Especially when I see a woman who looks to be in fabulous physical shape wearing a half-marathon finisher t-shirt! Uh, do I need to look like that in order to complete 13.1 miles? If so, then I have a LONG way to go and may need more than 11 months to complete my goal! BUT, since this is the year of "no excuses", I will hit the pavement in the above pink and silver numbers and see what comes of it! Don't worry, you will hear about every pain and blister along the way!
Jay decided he wanted to start the new decade out with a nice bottle of tequila! Ay caramba! So, there I was on New Year's Eve @ BevMo in the L-O-N-G line extending to the back of the store getting this: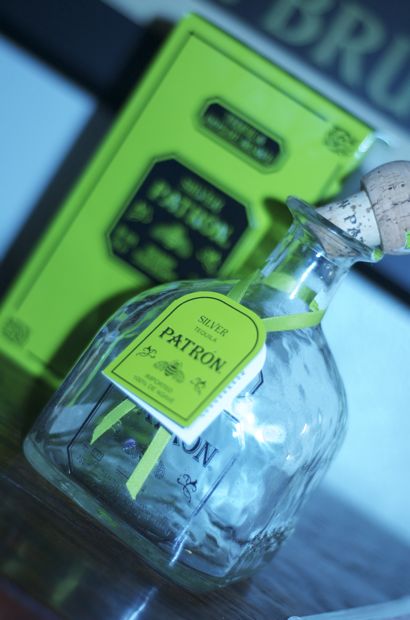 We rang in the New Year locally (meaning ON our street!) which was awesome since we were able to cruise home on foot around 2:30 a.m. from about 20 yards away!
We used the above square bottle for some Pomegranate Margaritas ~ recipe here.
This bottle DID last us 2 nights as we continued to welcome in 2010 last night with a wonderful sushi spread provided by our lovely neighbors Bob & Sun.
Check out this spread: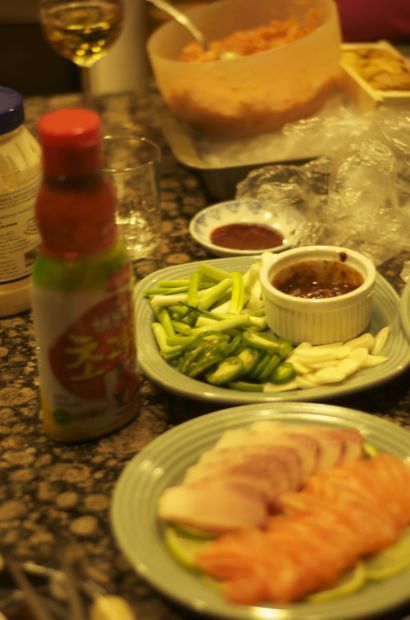 and this spicy salmon hand roll: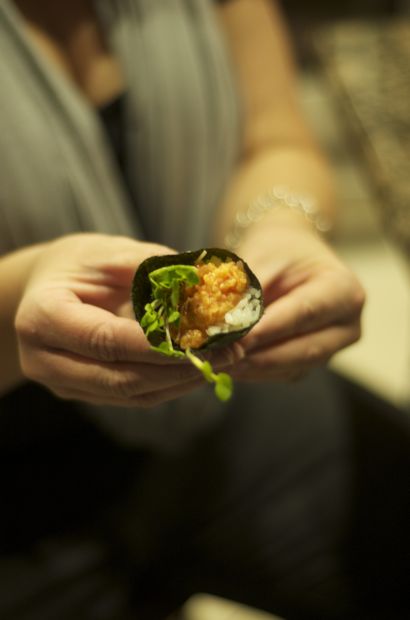 Let me just say that 2010 is off to a great start!
Thank you to ALL our family & friends for an epic 2009! Looking forward to new friends, new traditions, new discoveries and new adventures in the upcoming year.
Wishing you peace, love, health and happiness in the next 361 days!