Tonight it was "low carb" night in the Aspiras household.
Salmon cakes on greens and parmesan roasted asparagus.
Super easy and kinda fancy for a Wednesday evening.
I picked up some gorgeous asparagus on sale for 97¢/pound which is über cheap…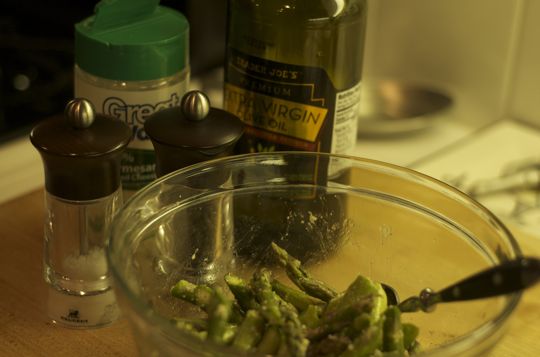 I just chopped off the bottoms (about 2 inches), cut into thirds on the diagonal, drizzled with olive oil and sprinkled with salt, pepper and parmesan cheese. Toss them around, pour onto a baking sheet and roast @ 400 for about 20 minutes.
Salmon Cakes with Lemon Dill Sour Cream
2 – 5oz. cans boneless, skinless salmon
2 large eggs, lightly beaten
1/4 cup plain bread crumbs (or cracker crumbs)
2 Tbsp. red onion, minced
2 Tbsp. frozen sweet white corn, thawed
1 tsp. Old Bay seasoning
Salt & Pepper
Mix all ingredients in a bowl and form into small patties ~ the above recipe made 7 cakes.
Drizzle a grill pan or skillet with olive oil and cook on medium for about 5 minutes each side.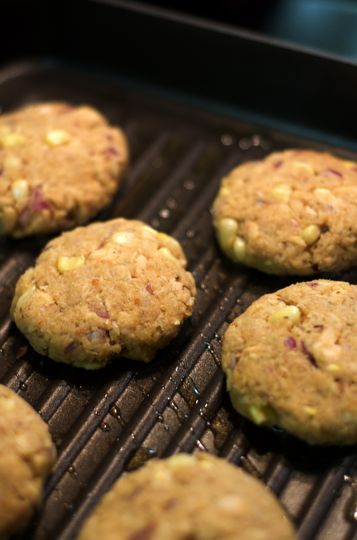 I had a little bit of leftover sour cream so I added a squeeze of lemon and a few shakes of dill weed. I just placed the patties on some spring mix and …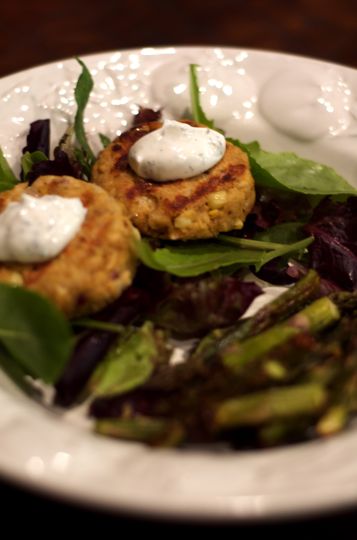 Super easy AND Elliott loved it! I'm thrilled that she is branching out and trying new things. She ate 1.5 patties and several pieces of asparagus right before she stated, "Asparagus is better when you dip it in ketchup!"
So, I will let YOU decide if you want to break out the Heinz on this one…but I think it's perfectly delish without it!
Enjoy!
{Oh my….I just had an evil carb thought ~ these would be heavenly on a little bun with the lemon dill sour cream and a few greens as sliders…hmmm, going to have to try that when I'm down a few pounds!}