My friend, Hollie, had a brilliant idea…
Take turns swapping the kids and celebrate Valentine's Day sans midgets!
GREAT idea.
Jay and I celebrated last night and the Sullivan kiddos will come spend a few hours with us tonight.
We went to Saturday evening Mass and then came home to prepare a Pioneer Woman Valentine's dinner:
Filet with onion and blue cheese sauce
Twice Baked Potatoes
Bread Pudding with Bailey's Irish Cream sauce
Talk about a meat and potatoes meal. Veggies were NOWHERE to be found on this table tonight.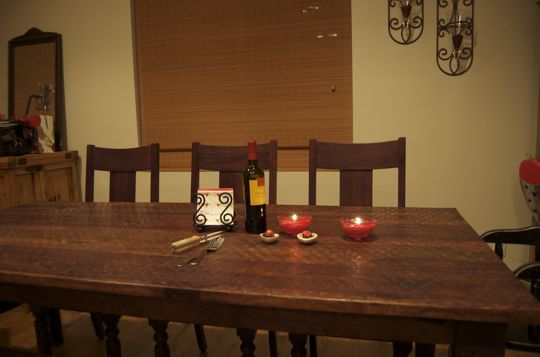 Personally I don't like to prepare steaks at home…I always screw them up. I think cooking steaks is a science and it makes me WAY nervous. But we were trying to save some dough and decided to stay in. I substituted PW's ribeye recipe with some filets. I told the butcher to say a prayer for me that I wouldn't massacre them. They turned out OK, but the onion blue cheese sauce was simply out of this world and oh SO easy to make.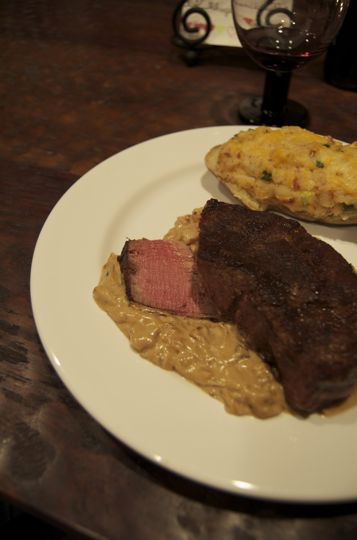 I'm telling you, the sauce was divine!
I've also not been able to successfully graduate from the school of bread pudding…not too sure why…it's NOT that difficult.
I attempted PW's sourdough bread pudding and substituted some almond extract for a portion of the vanilla and added sliced almonds on the top rather than the pecans she calls for. I also used Bailey's Irish Creme Coffee liquor in place of the Jack Daniel's for the sauce. Both substitutions worked out nicely and the pudding had a very distinct, but not overpowering, almond flavor.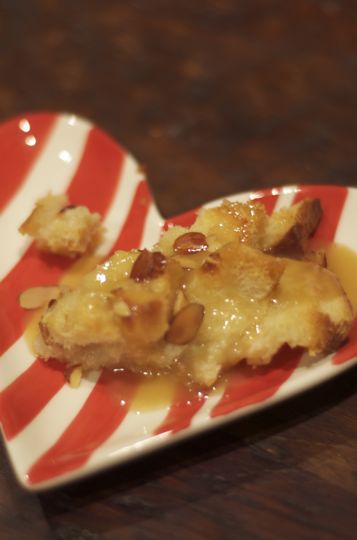 We were so stuffed from our hearty, stick-to-your-ribs dinner that we just sampled the dessert, but are looking forward to enjoying it again this evening.
Happy Valentine's Day!
~XOXO~