People either like meatloaf or don't like meatloaf.
I LOVE MEATLOAF!
I finally found one and burned all my previous meatloaf recipes.
Ina Garten knows how to do meatloaf. Here is her recipe.
Moist.(I don't like this word, but in the meatloaf world, this is a good thing). Flavorful. Delicious.
Please don't let the picture below be a turn off. Ina is a fan of free forming her meatloafs…..I prefer a loaf pan, but this thing would never fit in my loaf pan in a million years. But, it's g-o-o-d and equally yummy the next day on a sandwich with a little TJ's Wasabi Mayo!
You may want to consider cutting this recipe in half, because, um….5 pounds of ground turkey is A LOT! I used about 2.5 pounds of ground turkey in the meatloaf below: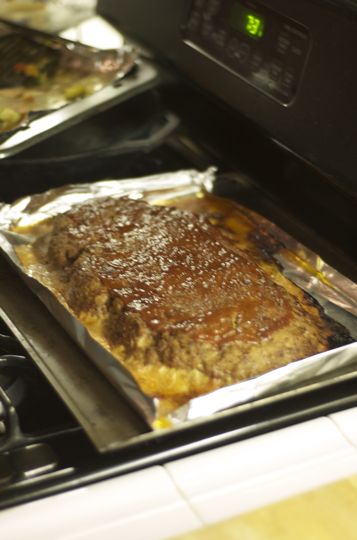 Instead of topping with plain ketchup, I mix regular yellow mustard, ketchup & brown sugar and slather on the top before baking.
I served it along with this Sonoma Salad which is always a hit:
1 bag Butter Lettuce, Spring Mix, Baby Spinach, etc.
Half of a large Fugi apple, chopped
Bleu cheese, gorgonzola or goat cheese
Craisins, raisins or both
Candied walnuts, chopped (I like Emerald~Original)
Marie's Poppy Seed Dressing (in the short bottle in the refrigerated section)
(Salad courtesy of Melanie Corona! Thanks, Mel!)