I love me some sloppy joes.
I used to think that the only way to make them is to buy a can of Manwich and brown some ground meat. But then I came across RR's recipe for "Super Sloppy Joes". I think the preceding "Super" is unnecessary and sounds silly, so I will just call them:
They are so delish ~ you will never want to buy another can of Manwich ever again. When I first read the recipe I was a little "huh?" … the red wine vinegar and brown sugar threw me off, but I went ahead and moved forward. They were fabulous! I have served them at 2 birthday parties as minis with little potato or dinner rolls and they were a big hit. I do use ground turkey rather than the ground beef, though. I love that there is a whole red pepper in the sauce…I throw a whole, seeded pepper in my mini processor and get it all finely chopped and it just blends in with the tomato sauce ~ the kids won't even know it's in there, folks!
Here is the line up: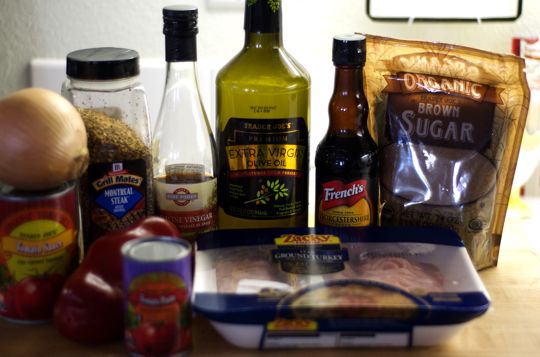 Here is the meaty goodness: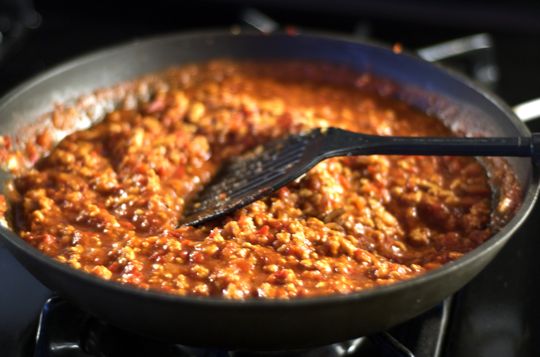 And here is the final 'wich: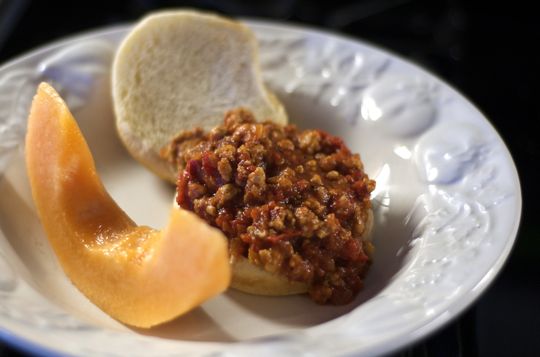 So yummy I could've eaten another….but I didn't because I had to go to "Boot Camp With Carmen" this evening!
That is where the "Oooowww!" comes in.
Ay Carmencita! It is night one and I am already feeling it.
OK, this may sound lame, but the whole time I was there, I was pretending that I was on Biggest Loser and that I was on camera. I made certain that my form was on point ~ standing with my stomach in, knees slightly bent, the whole nine. This really worked. I held the full body plank extra long because, afterall, I was on television in front of millions and I wanted to look like a rock star. Held the lunge like a statue because I didn't want to look weak.
But then I reminded myself THAT THIS IS THE FIRST DAY and that it's OK to have something to improve upon for goodness sake!
I did learn 2 things, however:
1. I have absolutely NO core strength!
and
2. I def need a better bra!
Jumping jacks and I have never been the best of friends, but if I'm going to turn this boot camp out, I need to invest in some serious sports bras. I'd better do it quick because I report back on Wednesday night to do it all over again!
A far cry from Jillian, but I think if I put my all into it I will see some good results after 7 weeks with Señorita Carmen.
Man, I must be a glutton for punishment this week ~ 2 nights of boot camp, a mammogram tomorrow morning and a scheduled 13.1 on the elliptical tomorrow night.
Ay Caramba!