I've been asking Jay for weeks, "What do you want to do for Father's Day?"
I guess men and women are different in that guys don't really care or put a lot of thought into certain things.
So, yesterday morning at 9:00am he was still pondering…
Santa Monica? Beverly Hills?
He settled on The Grove since there are plenty of places to choose from with the Farmer's Market, The Cheesecake Factory and The Farm.
We strolled around the market checking out all the different options.
Cajun. Kabob. Italian. Mexican. Korean. Chinese. BBQ. Seafood. Breakfast dishes. Sandwiches.
Now, I too, was indecisive!
We shared a sushi roll while we decided on something else.
Jay got beef kabob (which I was glad because he's been talking about kabob for awhile) with hummus, pita and some middle eastern take on potato salad with mint which was delish.
The kids got pepperoni pizza, of course.
I finally decided that I wanted some spicy Jambalaya from The Gumbo Pot. The line was long…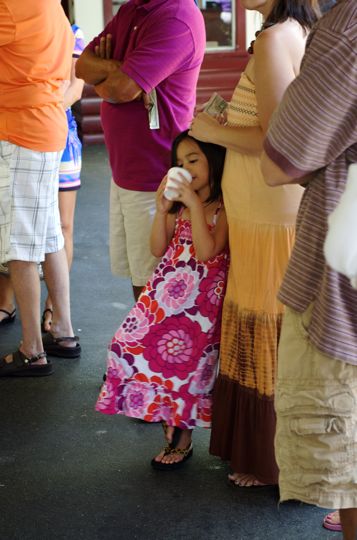 We also tried the hushpuppies…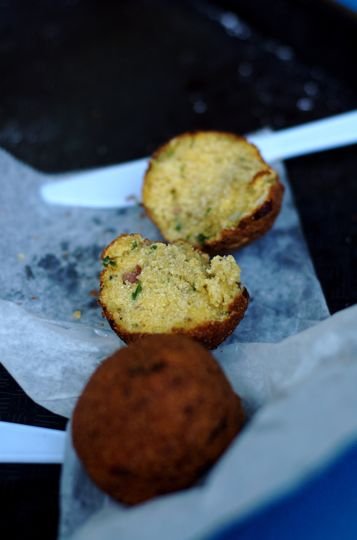 …and the beignets for dessert!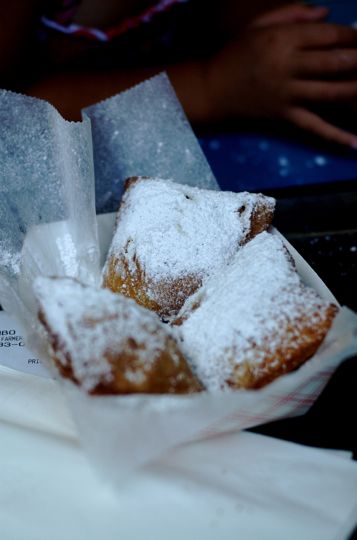 Trying to cool theirs off: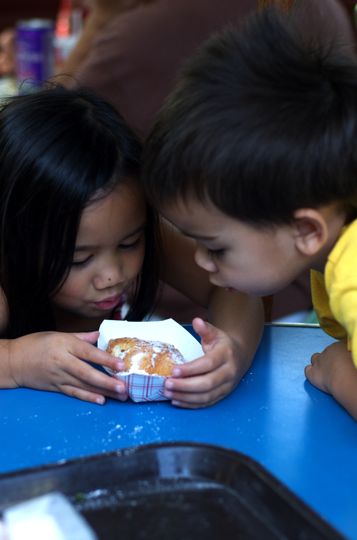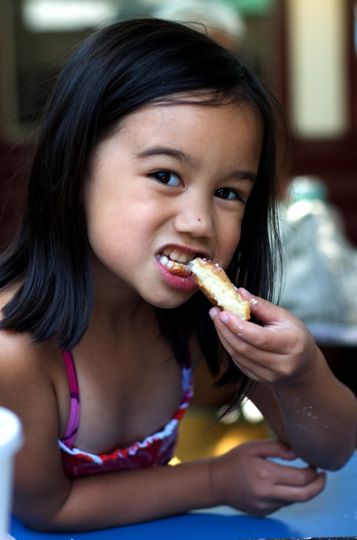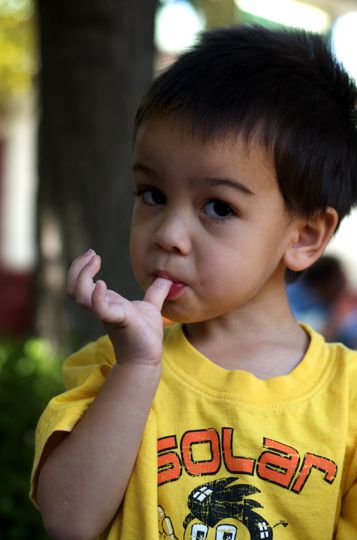 Powdered sugar everywhere.
Yum!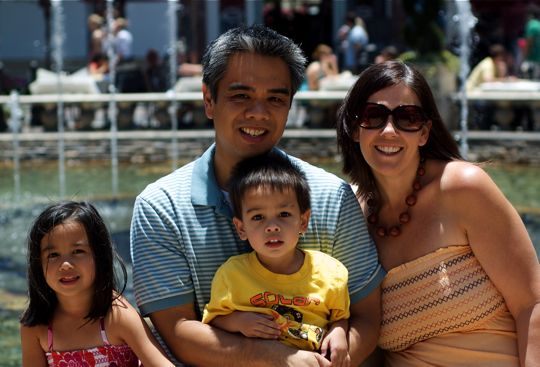 We were successful and got out of there without buying anything other than our lunch.
NOT EASY!
*****
I wanted to fix dinner, of course, but Jay wanted to do Sticky Brown Sugar Glazed Babybacks on the grill. I went to the store and grabbed a slab and a half along with the fixin's for some Bacon Blue Cheese Potato Salad and Peanut Butter Cup Ice Cream. I prepared the dry rub (cayenne, salt & pepper) and made the glaze (brown sugar, beer, cider vinegar, red pepper flakes and mustard powder) and he did the grilling. Thanks, babe!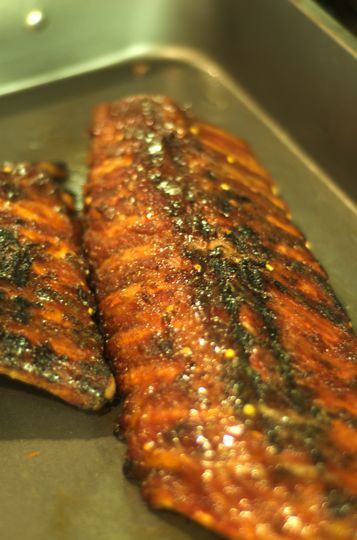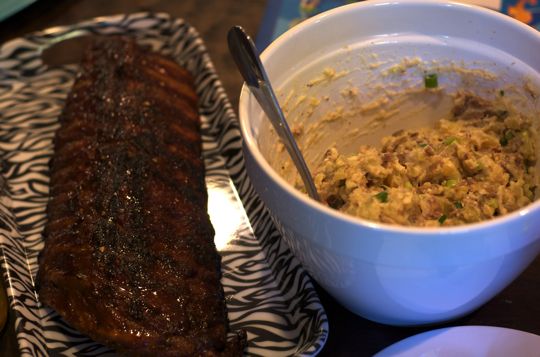 Bacon Blue Cheese Potato Salad: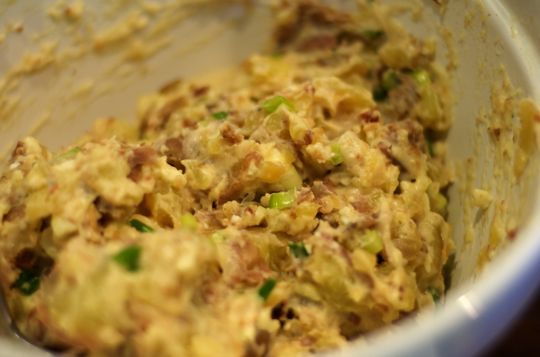 Sweet, sticky ribs: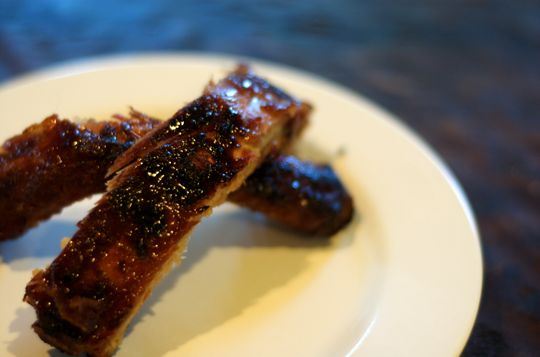 This was our first time doing ribs. I was a little nervous, but they turned out fantastic. Next time Jay said he will not have as many coals going so they can cook "lower and slower" so to speak, but they were outstanding.
The tater salad was a new find, too and it was perfect with the ribs.
We made our second batch of ice cream…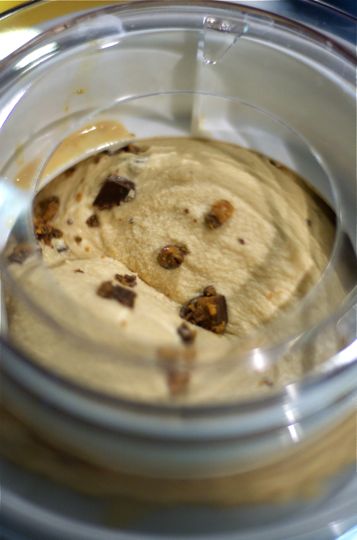 Peanut Butter Cup ~ Jay's fave!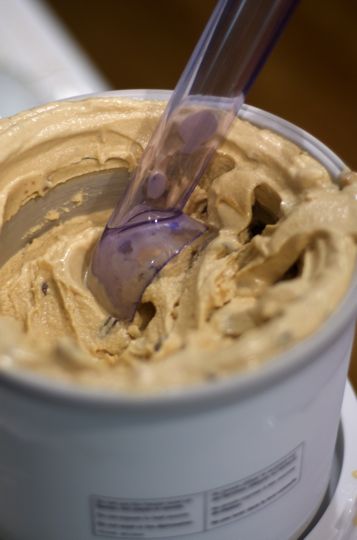 In the end, it doesn't matter if you're indecisive or have the perfect plan in your head.
All that matters is that we spent the day together as a family and reminded ourselves what an honor (most days!) it is to be parents to E & H.
From the moment the Clear Blue Easy stick told me Jay was going to be a daddy, I knew he was going to be a wonderful one.
That was almost 6 years ago!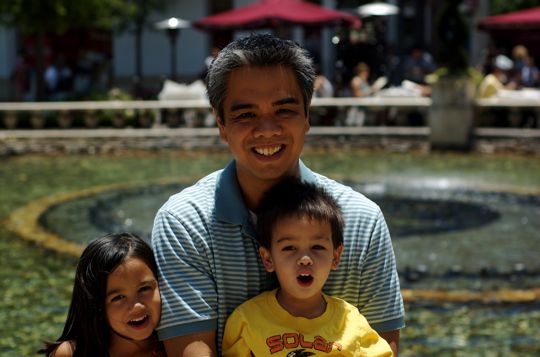 These two HAVE decided that they have the best daddy in the whole wide world!
We love you, Daddy!
XOXO