The holidays come and go with the blink of an eye. Each year we hurry to fit in our standard traditions before the magic of Christmas slips away.
My friends Denise and Niki turned me onto a tradition a number of years ago of getting a personalized family ornament. Jay and I bought our first one in '03 when we bought out first house. Here is the one from last year: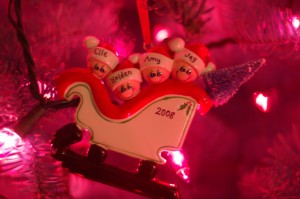 I saw the one that I want for this year…hope it's still there when I go back!
Of course, we make the required mall trip to visit Santa. Now, I'm not proud that I take my kids to the local Westfield Mall to whisper their wishes in Santa's ear, but that's where we seem to end up each year. We get there right when they open so there's no line and it just works out perfectly. In and out and onto the next tradition! Here is the pic from last year: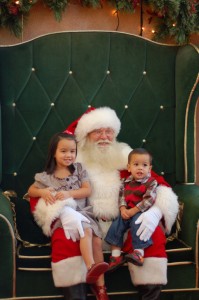 The kids LOVE to drive around and see the lights! Last year was our first holiday in Valencia and there are LOTS of lights, but one street in particular was our favorite. If we were out after dark, Elliott would always ask to drive by the lights. It instantly puts you back in the holiday spirit in case you think you're done and can't take anymore! This year we said we were going to grab some peppermint hot chocolate and walk through "Wakefield Wonderland" instead of limiting the view from the car. Almost time to get bundled up for that…I'm sure they will be ready for all us lookie-loos after Thanksgiving! Here is Wakefield Court last year: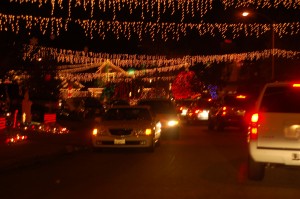 This year I told Jay that we HAVE to put lights up on in the front of the house even if it's just one strand! In a tree, on a bush, around the front door, whatever, just so the kids can have lights on their house! They don't care if it's one strand or 100 strands.
Then there is, of course, the tree fetching ceremony. We make it easy and go to Home Depot, get a 3-4 foot Noble Fir, put it up on a table to make it a little more difficult for our 2 and 4-legged kids to get to, add some lights and our special ornaments and we're good to go. No fuss, no muss! Easy!
And then there is the holiday grub! I make "Puppy Chow" or "Monkey Munch"…whatever you call it, I don't care, it's G-O-O-D! I make it for Jay's co-workers and they love me! Maybe if you're nice, I'll make some for you!
During the holidays my favorite Starbucks bev is a Peppermint White Mocha with whip and red sprinkles – the whole nine! It's the holidays, people! Go all out! The Peppermint Ice Blended from Coffee Bean & Tea Leaf isn't bad either on a typical warm Southern California December day! Then there is Baskin-Robbins peppermint ice cream (or ANY peppermint ice cream for that matter) Love it!
Every Christmas morning I serve the Jimmy Dean breakfast casserole. It's the best and I assemble it on Christmas Eve so all I have to do in the morning is throw it in the oven. For as long as I can remember we've also served Panettone (a typical bread of Milan, usually prepared and enjoyed forChristmas and New Year around Italy, and one of the symbols of the city) on Christmas morning. My Gam started this tradition years and years ago by bringing one over during the holidays. I now get mine at Trader Joe's. We cut it in wedges, put it under the broiler, slather softened butter on it and enjoy with coffee! The joke growing up was that my Mom would always burn the Panettone, so if you try this, please stay close to the oven because it gets toasty quick! That reminds me, I need to get to T.J.'s and pick one up soon!
I also love to do a full turkey "Thanksgiving Do-over" on Christmas Day. Roast Turkey, cornbread stuffing, green bean casserole, mashed taters, candied yams, sweet potato pie, oh yeah! Used to get a Honeybaked ham, but they're expensive and I wasn't too pleased with the last couple, so we're sticking to just the bird! OK, now that I am STARVING, here are the recipes:
This year I hope to start a new tradition of constructing a gingerbread house. I am a bit anal when it comes to crafts, but I know the kids will love it and it'll be fun. Between the four of us we can come up with a quirky, colorful confection! We can all decorate one side of the "gingerbread mansion".
I also want to have a gift wrapping get together. It's always more fun to wrap when you have good company, food, wine and holiday treats around. Christmas music in the background. Candles lit. Mulling spices on the stove. I hope to fit this into the holiday craziness this year and make it another yearly occurence.
Hmmm, what else can I fit in? The good news is is that I start my Christmas shopping like in the summer and tuck things away here and there. Then I don't have to stress myself out when it gets down to the knitty gritty. Oh, the holiday cards…I stay up late in a quiet house and fold, stuff, seal, address and stamp. I love it. There is nothing better, though, than driving to the Post Office and dropping those bad boys off. That is one big relief in my book!
Whatever your holiday traditions are, I hope that you celebrate them with the ones you love this year and make plenty of beautiful memories. I know I will!
Enjoy!