Kicking Easter Weekend off with some Cinnamon Almond French Toast: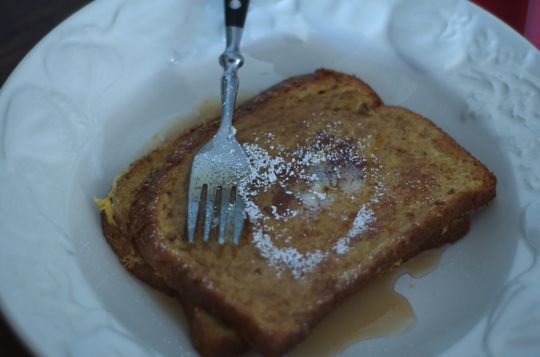 I just added some sprinkles of cinnamon and about a 1/4 teaspoon of pure almond extract to 4 eggs (or 6 egg whites) and a splash of milk. Soaked 4 pieces of Oroweat Double Fiber bread and…voila!
Drizzle with a little syrup and a dusting of powdered sugar and you're off to a sweet & healthy start to the holiday weekend!
I hope your weekend is filled with vibrant colored eggs, chocolate bunnies, jelly beans, Peeps and that annoying Easter grass from the baskets that ends up all over the floor!
Now, off to Burbank to pick up the in-laws!