This past weekend marked our 1-year anniversary here in So Cal. Last November we moved back down south to Santa Clarita from Gilroy/Bay Area in Nor Cal. Talk about time flying! I seriously can't believe that it's been 365 days or 52 weeks or 12 months since we moved….proof that life is going by WAY too fast these days and a reminder to enjoy every day, make beautiful memories and appreciate your friends and family!
Our friends, The Sharp's, recently found out that they'll be moving to the East Coast…this makes us very sad, but at the same time we are happy that Kev has a fantastic new job and now we have an excuse to hop on a plane and visit Delaware. They came up to visit and say goodbye (sniff, sniff) before they pack up and head across the country. Their dear friends (and now ours too!), The Lundstrom's, also came up for the night from Simi and we sat around eating appetizers, drinking wine and chatting.
Here is a picture of Holden with Garrett Lundstrom. Holdy LOVES Garrett! (and I think Garrett loves Holdy, too!)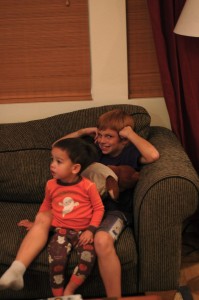 And here is a pic of Brynn Lundstrom, Elliott, Holden and Sophie Sharp!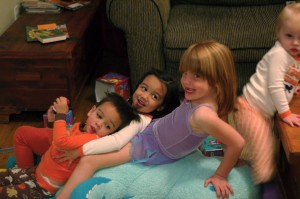 The next morning we went to feed the ducks at the lake in our development.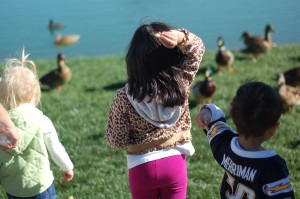 A hug for Sophie before heading to the playground.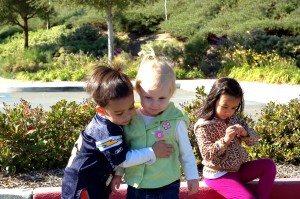 On our way back to the car, Kevin tried to get a good pic of our fam for this year's Christmas card. I wanted an organic, candid-type shot. Elliott is NOT liking to have her picture taken lately…sssssoooooo, we will have to try again this weekend, but here is one that was cute and almost the look I was going for. Thanks for your photography skills, Kev!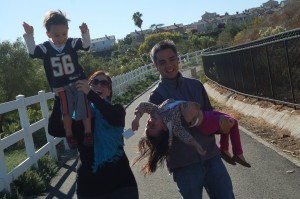 And here are our darling friends Kevin, Debbie & Miss Sophie Sharp.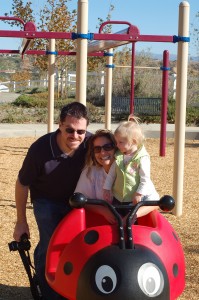 We wish you the best as you enter your next exciting chapter in life! You will meet wonderful new friends, uncover new traditions and make many happy memories in your new little part of the world, Delaware! Before you know it, you too will be celebrating your one-year anniversary in your new home. We love you and will miss you lots, but remember this isn't "Goodbye" it's "See ya later!" XOXO