Happy December!
Trying to get ahead this holiday season since we're leaving for Vegas on Saturday morning!
Cards ready to send out, tree trimmed, Santa visited…what next?
Here is a picture of the kiddos decortaing the tree with Popsi who came to visit for a few days after Thanksgiving: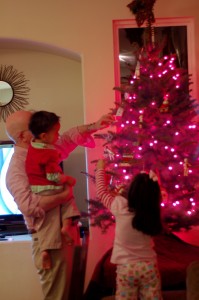 And here is a quick recipe that you can take to your holiday get togethers. Super simple and super delicious!
I don't recommend substituting lowfat cream cheese and mayo with this one…it just isn't the same. In my opinion, you'd be better off not eating it at all. Sorry!
1 can quartered artichoke hearts in water, drained
1 brick cream cheese, softened
1/2 cup mayonnaise
1/2 cup parmesan cheese
2 tbsp. minced garlic
1 tsp. dill weed
Chop artichoke hearts or put in a small food processor (that's what I use). Put cream cheese, artichoke hearts, mayo and parmesan cheese in a saucepan over medium heat. Stir often to keep from burning. Once everything is heated and combined, add the garlic and heat a few more minutes. Add dill weed at the last minute and give it one last stir. Serve with sliced baguette or crackers. Enjoy!